This Wine Wednesday, I am celebrating with three Cava samples I received from the Cava DO. Cava is one of my favorite sparkling wines so I was thrilled to get these samples. I also love that they are three different versions of Cava, a brut, a Rosé, and a Gran Reserva.
Let's start with the Gran Baron Brut. The winery is located near the fabulous city of Barcelona, Spain's second largest city and one of the World's most beautiful and exciting in my view. This wine is made from a combination of the traditional Cava varieties, Macabeu – Xarel·lo – Parellada. The winemaker is Xavi Pons. The vineyards at Gran Baron are all at 500 meters above sea level, an elevation that ensures good thermal excursion between day and night.
The wine was aged on the lees for 12 months. Straw yellow in color, with aromas of peach, citrus, elder flower and a hint of yeast on the nose, elegant and enveloping on the palate with good acidity, this wine is great as an aperitif or with tapas or salad. I had it with some nuts as I sat in my backyard this past weekend.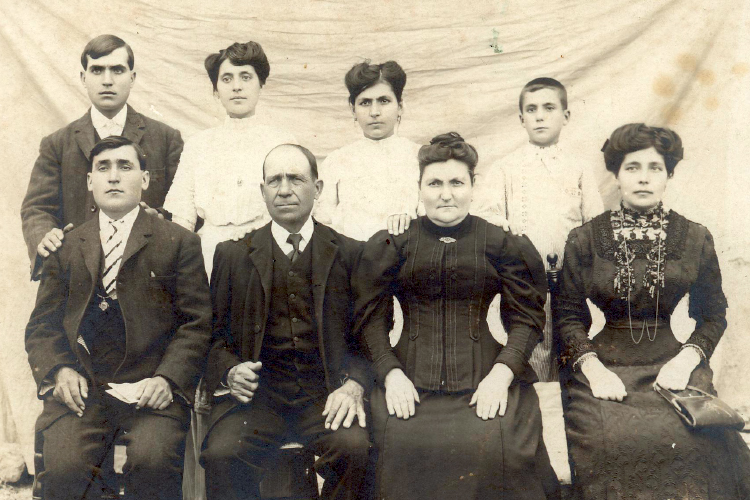 The second wine of the group was the Rosé from Maset. The winery is located in the heart of Penedes and is in the same family, the Massana family since 1777. The current owners are the 10th generation of the family running the winery. I loved this historic photo I found on their website. They have been selling their wines directly to consumers since 1958 and pride themselves on this facet of their winery. The first winery and the headquarters are located in La Granada, a small town situated in the heart of Alt Penedès.
This was a fun wine made from Trepat and Garnacha, two traditional red grapes used in Spain for Cava. Salmon in color with lovely red berry notes and red flowers on the nose while on the palate, it had great acidity, some mineral notes, and enough structure to stand up to a grilled Salmon steak. It was a beautiful version of a Rosé sparkling wine.
The third and final Cava I received was a Gran Reserva 2012 from Roger Goulart. It was golden yellow in color, with aromas of white fruit, mainly apples, pears, and a hint of honey and dried nuts from the long lees aging. On the palate, the same flavors come through with good acidity and a delicate, creamy perlage. This beauty was a charmer with a shrimp and zucchini pasta I made but would be even more intriguing with a mushroom or pumpkin dish for fall.
This winery prides itself on the long aging of their Cavas in underground cellars, 30 meters below ground level. While the DO calls for 30 months of aging for Gran Reserva, Roger Goulart leaves their Gran Reserva for 36 months. This beautiful building in the picture is from 1919 and was built in the town of Sant Esteve Sesrovires by the architect Ignasi Mas i Morell, a contemporary of Antonio Gaudī ,as a shipping warehouse.
One of the things I loved about these selections was that they showed the breadth of what Cavas can offer. If you want to see for yourself, lucky enough #CavaWeek is at hand next week. It's a promotion that will be held in a number of New York restaurants. There will be some social media activities too. Check out the website linked above.
In the meantime, tonight on Twitter at 9:00pm ET,. a group of bloggers who received samples from CAVA DO will be dishing about Cava. Look for us with the #Cava hashtag and join the conversation.
Together with me, here are the blogs of some 10 wine friends who are participating in tonight's chat. They either have posted about Cava or will be posting about Cava during the coming week to whet your appetite for the Cava you too can try. Join us to chat all things Cava later this evening.
Gwendolyn of Winepredator.com
Linda from My Full Wine Glass
Camilla from Culinary Adventures with Cam
Wendy from A Day in the Life on the Farm
Terri from Our Good Life
Martin from Enofylz
Deanna from Wineivore
Debbie from Hudson Valley Wine Goddess
Lori from Exploring the Wine Glass
Payal from Keep the Peas
and here at Avvinare.com, I posted a Cava primer here.